Hi, Chris here with a CHA sneak peek. This kit will be available in October for Breast Cancer Awareness month. It's lovely and pink and sparkly! What more could a girl want?
With this kit, I did a layout about my daughter. I went ahead and scrapped the not so perfect photos. She still looks adorable! (if I do say so myself)
Here's a close up: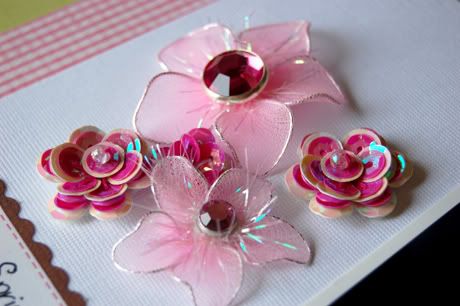 Here, in the close up, I combined the
pink flared flowers
with
a hot pink gem brad
. It was easy to do. Just take a craft knife and position it in the middle of the flower, and poke through. Make sure you are poking through on a craft mat or similar surface. Slip the brad through the opening and you have a completely different look! I also bent the petals to give it more dimension. Such a fun way to use the two together.
I also used the gorgeous
sequined flowers
to go with the "cluster". I created another cluster in the corner with the pink sequined flowers. I love creating clusters!
I also used the pink gem brads on the butterflies. Using a die cut machine or punch, cut a butterfly out of cardstock, then embellish it with the brad. To add even more sparkle, I added a bit of glitter glue around the butterfly edges.
The final fun little detail I added was using one of my favorite Creative Charms products, the
gradient gems
. I think I use them on every layout I make! They come in a variety of sizes and colors, so I
always
have the perfect one!
Here I used it as an accent for the "dot" on the letter "i". Instead of just using the dot, I used the asterisk mark, then added the
pink gradient gem
to make it look like a little flower.
I hope you enjoyed seeing how I used these pink products on my layout.
*(paper: My Minds Eye Quite Contrary. Bazzill cardstock.)